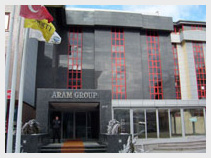 Aram Group; which is a young, dynamic, professional organization with world-class quality certificates that always aims to go forward and better in Turkey. For this reason, it has a structure that pursues new breakthrough targets with its administrative and technical staff that prioritize quality, standards, environment and experience in all fields of activity it participates in.

The company has done a lot of work in the infrastructure, superstructure, mass housing, energy, industry, natural gas, textile and food sectors and is a potential organization for new works to be done with its subsidiaries specialized in these fields.

Aram Group, headquartered in Ankara, was established in 1990; Showing a steady growth over the past years, it has participated in projects organized by official offices, public institutions and universities in many regions of Turkey and in projects supported by the World Bank; They successfully completed these works and obtained many references.

The goal of the company is to have a place of its own among international companies as an organization that works around the world by crossing the borders of Turkey.